The Complete Picture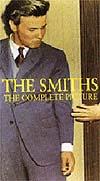 01. This Charming man
02. What Difference Does It make
03. Panic
04. Heaven Knows I'm Miserable Now
05. Ask
06. The Boy With The Thoren In His Side
07. How Soon Is Now
08. Shoplifters Of The World Unite
09. Girlfriend In A Coma
10. Sheila Take A Bow
11. Stop Me If You've Heard This One Before
12. The Queen Is Dead (a film by Derek Jarman)

December 1992

The hand to the right on the cover belongs to James Dean.