Hulmerist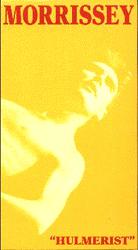 01. The Last Of The Famous International Playboys
02. Sister I'm A Poet (live)
03. Everyday Is Like Sunday
04. Interesting Drug
05. Suedehead
06. Ouija Board, Ouija Board
07. November Spawned A Monster

May 1990

Compilation of Morrissey's first six videos plus Sister I'm A Poet recorded live in Wolverhampton 1988.