Southpaw Grammar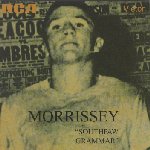 01. The Teachers Are Afraid Of The Pupils
02. Reader Meet Author
03. The Boy Racer
04. The Operation
05. Dagenham Dave
06. Do You Best And Don't Worry
07.  Best Friend On The Payroll
08. Southpaw

1995

The man on the cover is boxer Kenny Lane. The picture was taken from the April 1963 issue of The Ring. See the original picture.